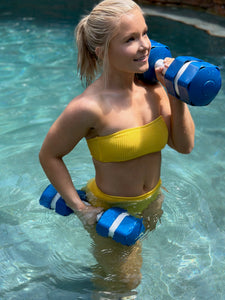 Water Weight Dumbbells. Comes in set of two. Customize your workout and resistance easily. Water Weight fills with water as it is submerged underwater to add weight. Once Water Weight is brought above the waters surface the weight begins to decrease with each rep by releasing water. 
Empty: 3 lbs (2.27kg)
Full: 7 lbs (9.07kg)
Perfect for your pool, hot tub, lake or even the beach! Easy to store and easy to use.
Enjoy working out while staying cool!
NOT A FLOATATION DEVICE
Made in USA